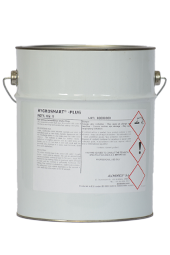 HYGROSMART®-PLUG is a high technology, one component powder that once it is mixed with water it becomes a very tough and durable fast setting water plug. It has remarkable abilities to stop leaks even for water under pressure. The material is ideal for sealing cracks in applications of negative pressure such as water tanks and tunnels. Due to the fact that it does not crack and has practically zero shrinkage it is easily used for local, short term repair applications.
hygrosmart-_plug_v.2.1.pdf, PDF, 104.44kBDOWNLOAD NOW
Product Details
RECOMMENDED FOR

FEATURES & BENEFITS
Water plug for pressure leaks and seepage through cracks
Water plug for leaks through construction joints between concrete and steel
In applications such as water tanks, tunnels, basements etc.
Easy application
Fast setting
Rapid strength build up
Resistance to chemically treated water
Good adhesion to mineral substrates
Water plug for pressure leaks and seepage through cracks
Water plug for leaks through construction joints between concrete and steel
In applications such as water tanks, tunnels, basements etc.

Easy application
Fast setting
Rapid strength build up
Resistance to chemically treated water
Good adhesion to mineral substrates